Accessing Florida state records and public information is easier than ever, thanks to state laws and records management improvements.
All anyone needs is a name and an internet connection, and they can find state criminal records and other vital information with just one click.
In addition to using online public records search tools, every Florida agency offers easy to follow steps for finding state records. This guide outlines how to access them quickly and easily.
Florida State Laws & Public Records
Florida has two Freedom of Information Act (FOIA) laws: the Florida Open Meetings Law and the Florida Sunshine Law. The Florida Open Meetings Law says that any meeting held by a government body is open to the public. The Florida Sunshine Law, enacted in 1995, grants Florida residents unrestricted access to public records like photos, documents, and books.1
When considering these laws, some private agencies offer a service that allows others to find the public records they need, and people benefit from these sites because they give visitors privacy, they're simple to use, and they can serve as a starting point for researching across the state and the country. Plus, government agencies often charge a fee to obtain certain records.
Regardless, it's crucial for interested parties to know where to locate the type of court, jurisdiction, and/or appropriate government agency for Florida public records and state records like:
Criminal records
Inmate records
Vital records
Court records
While this resource covers how to find public information in Florida as a whole, residents residing in the counties below can find specific information about their local public record custodians or agencies, including the information they provide such as arrests, criminal history, background check reports, probation, warrants, property records, taxes, prison records, court documents, and more, as well as the process to obtain said records.
Florida Criminal Records
Florida arrest records, criminal records and prosecutions (rap sheets) typically contain documentation of any felonies or misdemeanors, pending court dates, arrests, and other related information. The details of someone's criminal history can benefit everyone, especially employers or those who run homeless shelters to ensure a safe environment.
Are Florida Criminal Records Open to the Public?
Thanks to the Florida Statute Section 943.053, criminal records of those 18 and older are available to the general public unless the records are expunged or sealed.2
How To Find Someone's Criminal Charges or Records in Florida
People who want to know if someone has a criminal record, they can visit the State of Florida Criminal History Information which is a site run by the Florida Department of Law Enforcement (FDLE). Then click on the words "Florida Criminal History Record Check."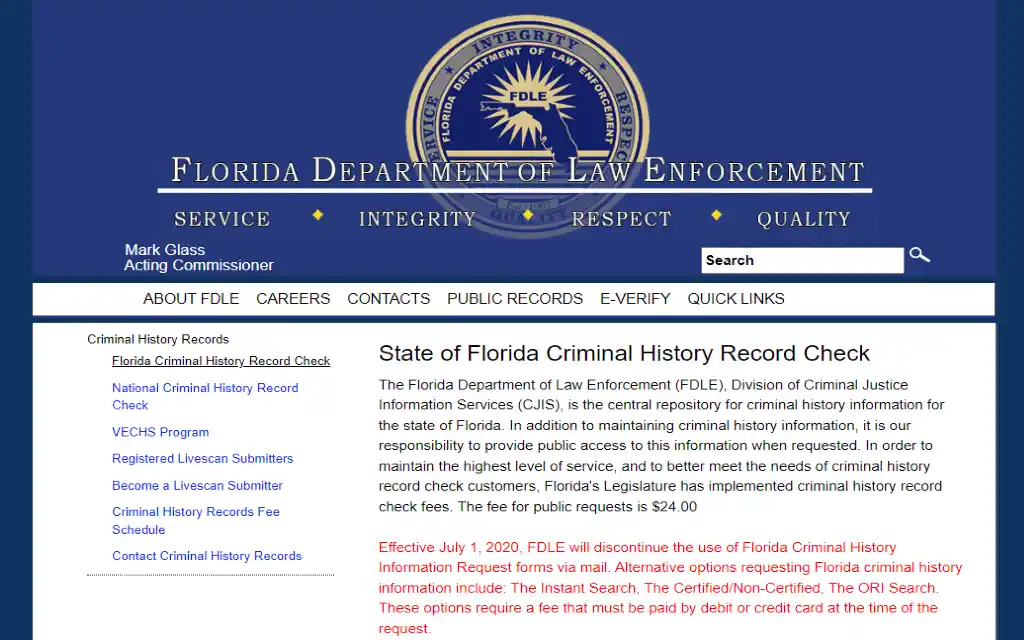 Site visitors have three search options:
Instant Search
Certified/Non-Certified Search
ORI (Originating Agency Identification) Search
The Instant Search feature gives patrons results right away. Every search result a customer conducts costs $25.00 total ($24.00 per search, $1.00 processing fee by credit or debit card).
For Certified/Non-Certified searches, a customer needs to provide someone's demographic information to an FDLE staff member. Afterward, the staff member carries out the search, which will take five days for non-certified searches and about a week for certified searches. Like the Instant Search option, the price for this service is $25.00.
Unlike the other two options, the cost for using the ORI Search feature differs based on who receives the results like an authorized party or state agency. Those using this service are required to have an ORI on hand before researching public criminal records.
For system-specific questions, the FDLE's Criminal History Services can be contacted:
How To Locate Florida Recent Arrest Records Online
Some people confuse arrest records with criminal records, and that's very understandable since these kinds of records possess many similarities and even have some overlap. Nevertheless, there's a way to tell them apart.
Here's a hypothetical scenario: a teen has been arrested for vandalizing a government building with spray paint. Even though the adolescent in question is arrested and being held in police custody, it doesn't mean that they're automatically guilty. Perhaps someone's framing them or he was chosen as a suspect for one reason or another.
A criminal record, by contrast, possesses details concerning offenses and arrests that have been processed by the court, whether they're pending, dropped, tried in court or convicted.
Florida residents have excellent sources they can utilize to find out if someone was arrested or is in jail. For example, one tool residents can use is the arrest inquiry provided by the Hillsborough County Sheriff's Office (HCSO). A person can search for a suspect by name, booking number, and booking date. Best of all, the search inquiry updates every half hour, making it easy for someone to find recent arrests.
The search tool offers a full access option, but it's only for certain people such as those associated with accredited media or law enforcement.
In addition, the Broward Sheriff's Office has a very simple arrest search feature. All that's needed is a suspect's first and last name to commence the search. Locals can also reach the office at 954-831-8901. Furthermore, searchers can utilize our Broward County public record lookup resource, which gives detailed steps for how to find local arrest details (and all other public information in the county), as well as other agencies that can offer assistance.
To browse recent arrest records online, first check with a local county sheriff's office to see which search tools are available. This can be done by searching the web for "[county name] arrest records."
For example, searchers could type "Miami-Dade County arrest records" to find recent arrests in that particular county.
Otherwise, citizens could check other city jails within the county or give local law enforcement agencies a call. For a full list of county arrest logs, mugshot databases, and additional ways to search for criminal records, check out the the Florida criminal records and arrest records guide.
How To Find Florida Mugshots
Mugshots of suspects and criminals are some of the most sought-after Florida state records. Each year, the state processes more than 700,000 of them.3
Those who need to retrieve one or more mugshots for any reason should visit the Florida Department of Corrections (DOC) Corrections Offender Network webpage. They have to click on the "Offender Search" button and then click "Search All Corrections Offender Databases" to get to this page:
As shown in the above image, a person needs to input someone's last name, first name, and DC number. Then, they can filter the results by checking the box next to the "Show only offenders that have photos" option.
Otherwise, county sheriff's office websites are a great place to find free mugshots of those who were recently arrested.
Are Florida Juvenile Records Available to the Public?
The general public is not allowed access to most juvenile records in Florida. However, the Department of Juvenile Justice and the Clerk of Courts maintain the privacy of juvenile records.
Therefore, the FDLE can disclose records related to felony arrests, transference into the adult system, filing into adult court, and transference into the adult system but sentenced as a juvenile. Juvenile records that aren't felonies are destroyed when the minor turns 21 (or in some cases, 26).4
How To Look Up Outstanding Warrants (Free Florida Warrant Search Checker)
People who need to check if there's a warrant out on someone (or themselves for that matter) can stop by the FDLE's Public Access System (PAS).10 Upon visiting the page, users have to click on the tab from the menu that says "Wanted Persons." It takes them to a page where they can input someone's first and last name, middle name, sex, race, and date of birth or age.
A user also has to enter the captcha text at the bottom before starting their search.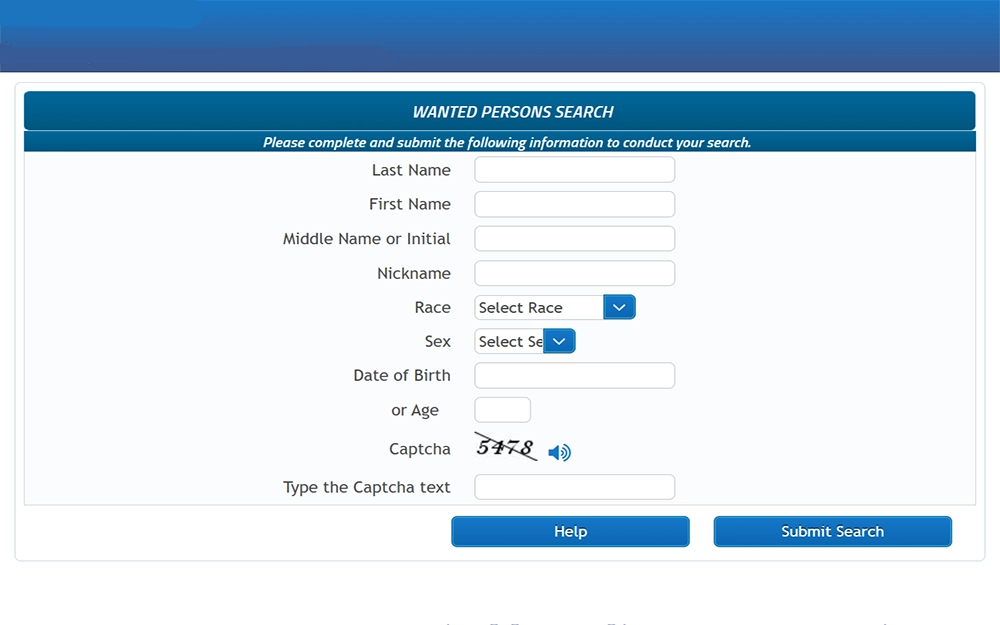 Any electronic inquiries should be sent to [email protected].
Moreover, people can contact their local police department or sheriff's office.
For an example of which agencies typically host warrant details at the county level, residents can refer to our resource on accessing all public records within Lee County to find contact information for the Lee County Sheriff's Office, the county clerk of court, and a local police department. This resource also offers an online warrant lookup tool which is searchable by name and operated by the Lee County Sheriff's Office.
How To Find Registered Sex Offenders in Florida
If someone is interviewing for a job involving patients or children, prospective employers need to check if an interviewee is listed as a Florida sex offender. The FDLE's Sexual Offenders and Predators Search page is a handy online directory. That's because it's split into two search types: an offender search and a neighborhood search.
Conducting an offender search only requires inputting someone's first and last name. To use the neighborhood search feature, a person has to type in an address, city, and zip code and then choose the radius.
Visitors who have any questions or concerns can call or email the Enforcement and Investigative Support Team:
To double check for nearby sexual predators, the Nationwide Sex Offender Registry can also be searched. It's important to note that this information is for educational purposes and should not be used to threaten, harass, or intimidate anyone.
How To Obtain a Background Check in Florida
Going through a background check is a requirement for many aspects of living, whether it's for personal curiosity, a specific job, renting a home, licensing, owning a weapon or vetting potential business partners.
Employers and other interested parties can use the aforementioned State of Florida Criminal History Record Check options for conducting background checks.
Those who want to buy a firearm have to adhere to the FDLE's Firearm Purchase Process. Here's how it works: a person has to pick up and fill out an ATF form from a licensed gun dealer. Once they turn in any required identification documentation, an analyst looks it over to decide someone's eligibility. Then, they provide a queue number and a final decision.
These decisions fall under three groups "non-approved," "approved," or "decision pending".5 Many licensed gun dealers follow the rules outlined by the National Instant Criminal Background Check System (NICS).
As an example, if someone is a Gainesville resident, they can carry out background checks through the Gainesville Police Department's Virtual Front Desk. Criminal background checks are $5.00 each, and they can visit the Background Check Form page to place online requests.
For in-person orders, patrons should visit this address:
Gainesville Police Department
413 NW 8th Ave
Gainesville, FL 32601
Phone orders can be placed through this number: 352-393-7565. This process can also be carried out at many other police departments and county jails in the state.
Since not all counties offer official background checks to residents, a great backup option is for individuals to run a quick check themselves. For example, to look up background information on anyone in Pinellas County, citizens could look up a subject's marital records, court documents, prior arrests, and comprehensive criminal history.
As an example of how to utilize local custodians to conduct background checks, citizens can check out our resource on retrieving all public record types in Polk County, as it summarizes how to get fingerprints taken, perform background checks via the sheriff's office, and outlines the associated fees to do so. Additionally, this resource provides streamlined instructions for accessing other public information in Polk County, such as marital, property, and court documents.
To conduct a national criminal history check, people should use the State and National Criminal History Check tool. Applicants of certain occupations are required to submit fingerprints through a state-approved LiveScan device provider. In addition, they can also find more information about licensing guidelines via any appropriate government agency. As stated by the guidelines outlined by the Jessica Lunsford Act, the Florida Shared School Results System (FSSR) shares the criminal history of employees in local school districts.
Florida is one of only two US states that differentiate between Level 1 and Level 2 background checks in its local statutes. Level 1 deals with name and employment history-based checks in a specific state. Level 2 involves state and national fingerprint checks carried out on people in high-security occupations.
What Type of Florida Court Records Are Available to the Public?
There are several kinds of court-related records that are open to the public due to the state's vast court system. Court records usually include transcripts filed with a clerk, video recordings, sealed court records, and audio recordings associated with a civil or criminal court trial.
Nonetheless, cases that fall under the Florida Probate Rules or the Florida Rules of Family Law are not available to the general public. Only those who have registered with a Clerk's Office under certain state parameters have permission to view these private Florida state records.6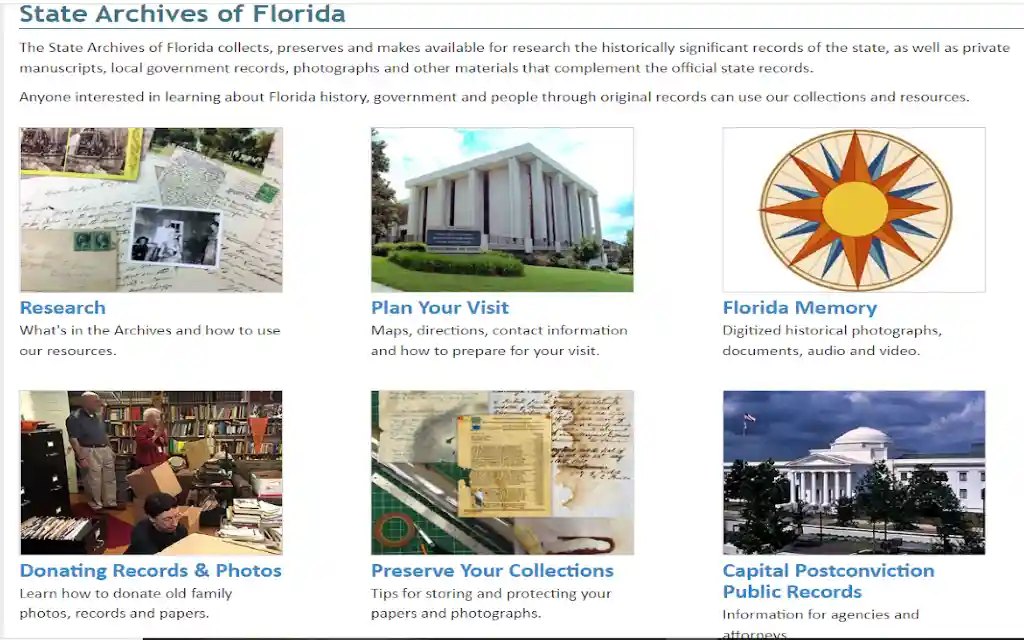 How To Search Florida Online Court Records (Free Florida Divorce Records Search)
A good place for someone to begin their search is the  Florida Supreme Court. To check public records at this location, people have to send a note to this email address: [email protected].
Another source someone can use is the Florida State Archives. Many finalized court records are sent there.
This FL public records depository is open to anyone, from law attorneys to everyday Florida residents.
Because Florida has 20 circuit judicial courts, it'll take too long to cover them all here. However, each one lists the counties they serve as well as phone numbers and addresses for anyone with questions or requests.
Florida Bankruptcy Records & Case Search Guide
The Public Access to Court Electronic Records (PACER) is a popular bankruptcy-related service offered by the US Bankruptcy Court of the Middle District of Florida. The cost for this service is $0.10 per page and $2.40 per audio file. Site users can also call 800-676-6856 to retrieve bankruptcy court records of others or themselves.
If Florida residents prefer to receive information about bankruptcy cases filed in the Middle District of Florida, they can utilize the Voice Case Information System (VCIS). The system's number (+1-866-222-8029 #91) lets others access the bankruptcy court's computer from a mobile or landline phone. This is a good option for those who want to save money because this service is free.
Additionally, people can visit the Clerk's Offices of Orlando, Jacksonville, and/or Tampa to obtain electronic bankruptcy records, which also come with no charge.
The US Bankruptcy Court of the Southern District of Florida has Clerk's Offices based in Miami, Fort Lauderdale, and West Palm Beach. Anyone local to the area can call their numbers or visit in person between 8:30 am-4:00 pm on weekdays.
The US Bankruptcy Court of the Northern District of Florida operates courthouses in Gainesville, Tallahassee, and Pensacola. Its office hours are 9:00 am-4:00 pm Monday through Friday.
Florida Inmate Records
As of 2019, there are 87 jails across 67 counties in Florida with about 64,710 jail inmates. Also, there are over 96,000 prisoners who reside in 143 Florida prison facilities.7 This fact is disheartening for many people since it's difficult for them to find their imprisoned loved ones.
Records about Florida inmates usually consist of DNA evidence in a crime, photographs, recordings, and any documentation obtained by state court systems.
How To Search for Jail Inmates in Florida
Those who need to locate one or more inmates in jail have excellent search tools at their disposal. For example, the Palm Beach County Sheriff's Office provides a simple Booking Blotter tool for users to find inmates. They only need to enter an inmate's first and last name, city name, street name, and statute to search for them. Site visitors can even filter the results of arresting agencies by selecting a specific or by choosing the "All Agencies" option.
The Pasco Sheriff's Office also has a handy jail inmate search tool. To find inmates currently in custody, a person needs to click the "Citizen Resources" tab and then click "Jail." Next, they have to click the "In Custody" button.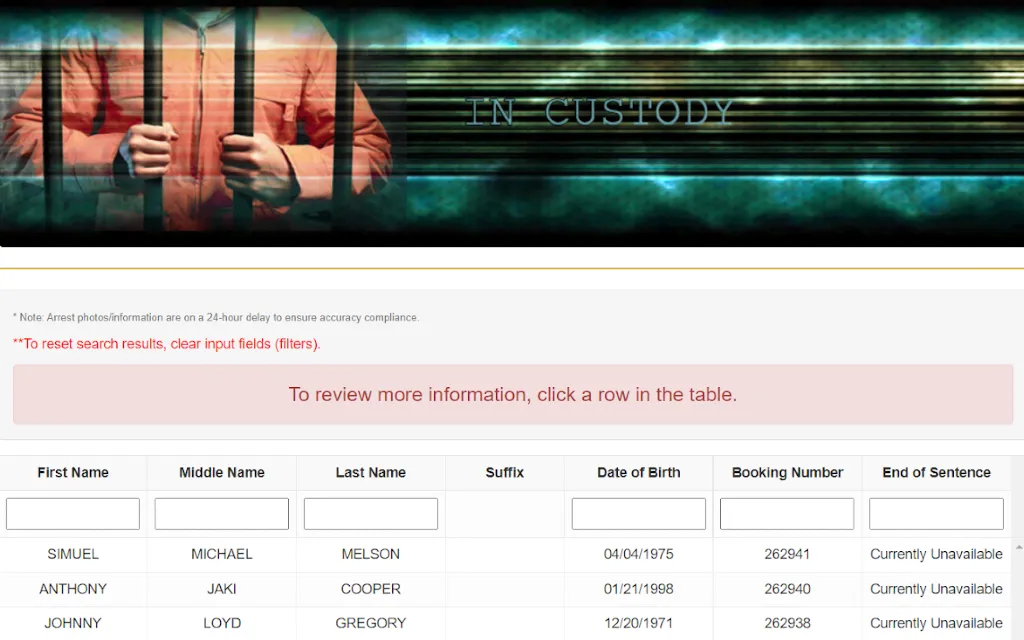 If any of the inmates listed in the table seem familiar to someone, they can click on the row to get more information about them. Otherwise, users can type in an inmate's name, birth date, and booking number to track them down.
The Nassau County Sheriff's Office In-Custody Inmate Inquiry is self-explanatory. Site visitors need to enter an inmate's name, subject number, and booking dates to commence their search. This tool also includes a check box where people can filter their results by inmates who are currently in jail.
People can apply the methods shown in the above examples to other county jails. If it's not feasible, they can call them.
How To Search for Prison Inmates in Florida
Federal prisoners can be found through the BOP (Federal Bureau of Prisons) inmate locator tool that lets others look up inmate details dating from 1982 to today. Users can search for the said prisoner by name and other demographics like sex and age or a certain registered number.
The Florida DOC oversees seven state prisons and has its own offender search tool. Lastly, if someone knows an inmate who resides in one of them, they can contact institutions like the Gadsden Correctional Facility and the South Bay Correctional Facility by email or phone.
How To Locate Inmate Release Dates
Both inmates and their loved ones alike look forward to parole hearings. If someone has a relative or a friend in the Florida DOC prison system, they can research through the Inmate Release Information Search page or call 850-488-9859.
Some of the local counties also have their own release date tools. For example, the Okaloosa Department of Corrections inmate lookup page by clicking on the "Inmate Search" tab.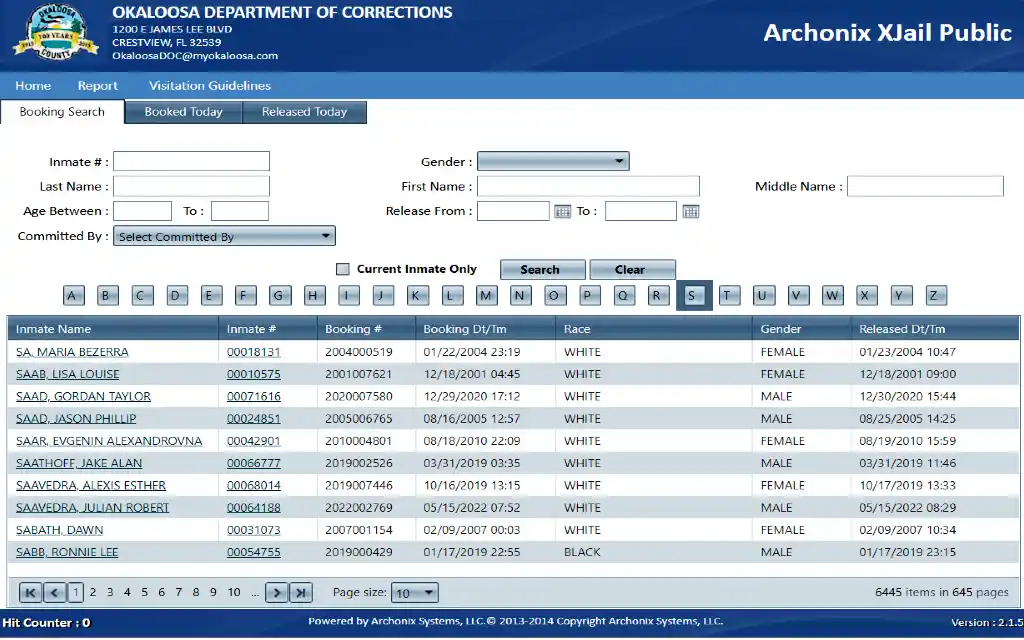 What's interesting about this page is that entering an inmate's name and other details is optional. A site visitor only needs to click on a letter to locate someone's name, release date, and other information.
Some facilities, such as the Collier County Sheriff's Office, don't have an online release date search tool. But, a person can call or visit one of its offices to inquire about inmate release dates. Here is the contact information of both offices:
Immokalee Jail Center
302 Stockade Rd
Immokalee, FL 34142
Ph: 239-657-2878
Naples Jail Center
3347 Tamiami Trail E.
Naples, FL 34112
Ph: 239-252-9504
Additionally, a person can research inmate release procedures at other local jails.
How To Send Money or Visit Florida Inmates
Friends and family can offer monetary and psychological support by following these guidelines to sending money and/or visiting an inmate.
Sending Money to Florida Inmates
Florida DOC inmates purchase many needed items through their facilities like toiletries, bed sheets, and clothing. Some also like to buy soda, chips, and other treats. As much as people want to send money to their imprisoned loved ones here, there's one rule they have to abide by before doing so. As per Rule 33-203.201, F.A.C., the only individuals who are permitted to send inmates money are those who possess an "approved" status and are listed on the DOC visiting record.8
There are four ways to send money to an inmate via JPay:
Online
Through the JPay app
By phone through a customer service representative
By money order
To send a money order to an inmate housed in a state institution, a visitor needs to obtain a Form DC2-363 (the deposit form) along with a valid ID. Deposit forms aren't required for county jails or private institutions since they have their own money deposit procedures.
Visiting a Florida Inmate
The Florida DOC advises prospective visitors to adhere to specific visitation rules. Before seeing an inmate, they have to pick up an application, fill it out, and mail it to the inmate's facility. Processing time for applications is about 30 days. Applicants have to be at least 12 years old, and those 16 and older have to bring a photo ID.
Once approved, visitors need to fill out an electronic visitation request form to schedule an appointment, which is available in English and Spanish. After approval and clearance, they can visit between 9:00 am and 3:00 pm on Saturdays and Sundays.
Florida State Vital Records Information
Vital records usually consist of marriage certificates, divorce certificates, birth certificates, and death certificates. They also include separation and fetal death records, but this section only focuses on the first four mentioned here.
Who Can Retrieve Florida Vital Records?
Some Florida state's vital records are open to the public, and some are not. To be specific, a birth certificate and/ or certificate of birth that's less than a century old is not a public record. A death certificate and/or certificate of death that's younger than 50 is also not a public record. Marriage and divorce certificates are public records unless they're sealed.
To give you an idea of how many people have divorce records in Florida, the following image shows the percent of people divorced in every FL county.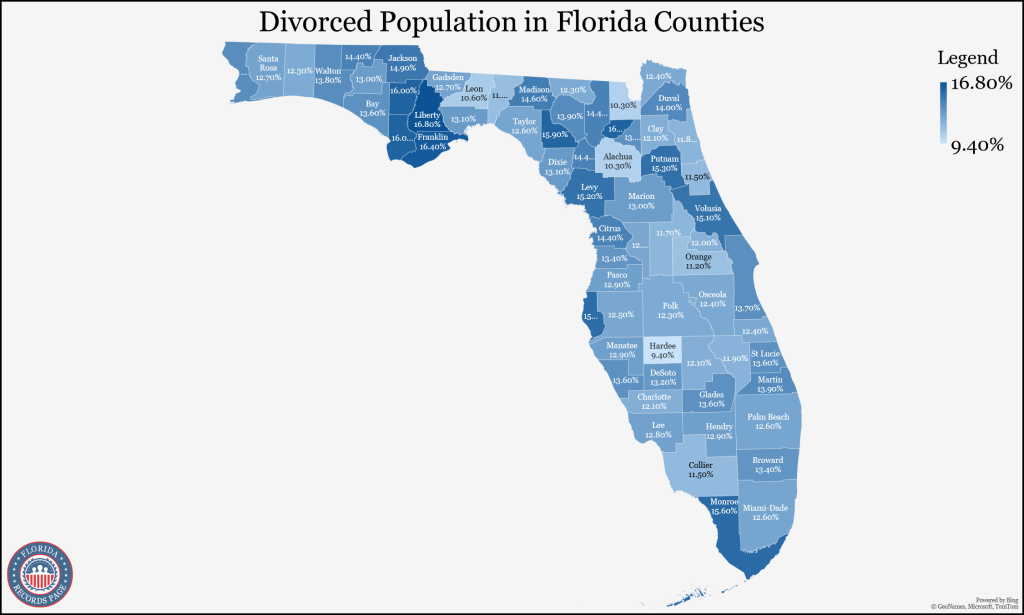 Only a spouse or a family member of the person in question can seek out birth and death certificates. Note, that anyone over 18 can obtain their own birth certificate.
Where Do I Get Vital Records Replacements & Copies in Florida? (Get Free Marriage Records in Florida)
Interested parties can purchase a certified copy or a replacement through the Florida Department of Health (DOH). The department offers three ordering options for vital records:
VitalChek (an official contacted vendor)
Local County Health Department (birth certificates and death certificates only)
The price for a birth certificate through VitalChek is $19.00. (For a death certificate, it's $15.00.) A marriage certificate or divorce certificate is $15.00. The processing fee for certificates is $7.00. Also, it costs $4.00 per additional certificate. Anyone who prefers placing phone orders can call 877-550-7330.
The Florida Bureau of Vital Statistics provides mail and in-person services. Here's its contact information:
Physical Address: 1217 N Pearl St, Jacksonville, FL 32202
Mailing Address: Florida Bureau of Vital Statistics, PO Box, 210, Jacksonville, FL 32231
Phone: 904-359-6900 
Knowing where to locate public records can be difficult but this guide should clarify any confusion whether a person wants to look up someone's criminal record, find out if someone is married, or see if a friend has been charged with a crime.
1Florida FOIA Laws – National Freedom of Information Coalition. (n.d.). National Freedom of Information Coalition. Retrieved May 28, 2022, from <https://www.nfoic.org/florida-foia-laws/>
2(n.d.). Wikipedia, the free encyclopedia. Retrieved May 28, 2022, from <https://www.duilawdefense.com/blog/2019/09/are-criminal-records-public-in-florida/>
3(n.d.). Florida Mugshots – Search Official Florida Mugshots. Retrieved May 28, 2022, from <https://floridastatemugshots.org/>
4Dirga, E. J. (n.d.). Juvenile Records, Confidentiality, Florida Law | Eric J Dirga PA. Eric J Dirga, PA. Retrieved May 28, 2022, from <https://ejdirga.com/orlando-criminal-attorney/florida-expungement-lawyer/expungement-options/juvenile_expungement/juvenile-records/>
5Firearm Purchase Process. (n.d.). Florida Department of Law Enforcement. Retrieved May 28, 2022, from <https://www.fdle.state.fl.us/FPP/FAQs1.aspx>
6Court Records Information. (n.d.). Duval County Clerk of Courts. Retrieved May 28, 2022, from <https://www2.duvalclerk.com/records/court/>
7Florida 2019. (n.d.). National Institute of Corrections. Retrieved May 28, 2022, from <https://nicic.gov/state-statistics/2019/florida-2019>
8FAQ: Inmate Funds. (n.d.). Florida Department of Corrections. Retrieved May 28, 2022, from <http://www.dc.state.fl.us/ci/funds.html>
9Florida Department of Law Enforcement. Accessed 5 May 2023. <http://www.fdle.state.fl.us/Criminal-History-Records/Florida-Checks.aspx>
10Florida Crime Information Center. Accessed 5 May 2023. <http://pas.fdle.state.fl.us/pas/restricted/PAS/home/home.jsf>
11Florida Department of State. Accessed 5 May 2023. <https://dos.myflorida.com/library-archives/archives/>
12Pasco Sheriff's Office. Accessed 5 May 2023. <https://www.pascosheriff.com/jail.html>
13Archonix XJail Public. Accessed 5 May 2023. <http://www3.myokaloosa.com/ArchonixXJailPublic/Default.aspx>
14Florida Department of Health, 3 March 2021. Accessed 5 May 2023. <https://www.floridahealth.gov/certificates/certificates/>